Video Campanello Smart | Controllo tramite App | Slot microSD | HD 720p
Sicurezza & Automazione/Smart Home/Osservazione
Video Campanello Smart | Controllo tramite App | Slot microSD | HD 720p
Marca: Nedis
Codice articolo: WIFICDP10GY
Codice EAN: 5412810311323
Video Campanello Smart | Controllo tramite App | Slot microSD | HD 720p
Codice Fornitore: WIFICDP10GY
Codice EAN: 5412810311323
Con questo video campanello intelligente Nedis® SmartLife, sai sempre se c'è qualcuno alla porta, ovunque ti trovi. Non appena il visitatore suona il campanello o, grazie al rilevatore di movimento, si avvicina al portico, riceverai una notifica push sullo smartphone. Potrai quindi avviare una videochiamata, chiedere a un corriere di lasciare il pacco ai tuoi vicini o dire al rappresentante che non sei interessato ai suoi prodotti, il tutto senza aprire la porta.
Dato che puoi rispondere da qualsiasi posizione nel mondo a condizione che lo smartphone disponga di una connessione a Internet, ciò aumenta anche la sicurezza domestica, facendo sembrare che tu sia a casa.
La videocamera HD (720p) è dotata di un angolo di visualizzazione a 130° e supporta la visione notturna, consentendoti di vedere chiaramente chi è alla tua porta 24 ore al giorno.
Nessun problema se non hai il tempo di rispondere alla porta. Le immagini vengono memorizzate su una scheda microSD per consentirti di guardare in qualsiasi momento.
Il video campanello wireless è facile da installare tramite i fili del campanello esistente, inclusa la regolazione dell'angolazione per montare sempre il campanello in una posizione ottimale.
Espandi questo video campanello con la nostra unità per campanello Nedis® (WIFICDPC10BK) per sentire il segnale acustico anche se lo smartphone è spento.
Features
• Invia notifiche push allo smartphone se qualcuno si avvicina (rilevatore di movimento) o suona il campanello • Il rilevamento di movimento può anche essere disattivato (ad esempio, se la tua porta si affaccia direttamente sulla strada) • Comunicazione bidirezionale per parlare ai tuoi visitatori ovunque ti trovi • Registrazione HD (720p) e zoom digitale sullo smartphone per una visualizzazione dettagliata • Alimentazione di 8 - 24 V CA: vengono utilizzati i fili del campanello cablato esistente • Le registrazioni vengono memorizzate su una scheda MicroSD fino a 128 GB (non incl.) per consentirti di rivedere cosa è successo • Regolazione dell'angolazione inclusa per un angolo di visualizzazione ottimale • Integrato nell'app Nedis® SmartLife • Espandibile con segnale acustico per porta wireless (WIFICDPC10BK, non incl.), così potrai sentire il campanello quando sei a casa, indipendentemente da dove si trova il tuo telefono
Anche altri hanno comprato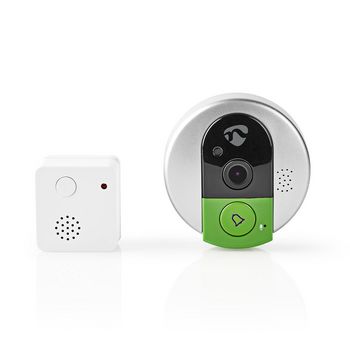 Video Campanello senza Fili 720p | Supporto App | Segnale...
Prezzo di vendita consigliato (IVA inclusa)
€ 69,99
Contenuto della confezione
Video campanello
Supporto a parete
Adattatore di regolazione dell'angolazione
Materiali di installazione
Guida di avvio rapido
Specifiche del prodotto
Colore
Grigio

Chip immagine
1/4" CMOS

Tecnologia wireless
433 MHz
Wi-Fi

Temperatura di lavoro
-20 - 50 °C

App disponibile per
Android™ & iOS

Risoluzione massima
1280x720

Angolo di visione
130 °

Caratteristiche
2-Way Audio
Visione notturna
Motion sensor

Guadagno dell'antenna
0 dBi

Visione notturna
5 m

Megapixel
1 MPixel

Compatibile con smarthome
Nedis® SmartLife

Classificazione IP
IP53

Max. potenza di trasmissione radio
18 dBm

Range di frequenza
2400 - 2484 MHz

Voltaggio di ingresso
8 - 24 VAC 50 Hz

Domande frequenti
Abbiamo trovato le seguenti domande per te in inglese
I have replaced my old wired doorbell with this video doorbell but it is not receiving power.
This video doorbell can indeed be powered by the existing doorbell transformer (8 - 24 VAC). But it is necessary to shortcut or remove the wired gong so that the video doorbell is connected directly and exclusively to the doorbell transformer.
What is the USB port used for?
This can be used to provide the camera with power during testing before mounting it next to the door.
Does this product work on a battery?
No, it does not have an internal battery and it needs to be connected to power at all times.
Does it work with Google Home (HUB)?
No, this device is not compatible with Google/NEST Home (HUB)
The videostream is at moment not working with Google/NEST Hub.

I connected the doorbell to the wires but it will not reset or install.
The video doorbell does not receive enough power. Typically this is due to loss on the cables. A power supply with a higher Voltage and Amperage can compensate for this loss.
How do I pair the WIFICDPC10BK gong to the video doorbell?

- Go to the settings menu of the video doorbell
- Select doorbell settings
- Place the gong really close to the doorbell
- Give the button on the bottom of the gong a short press: the light will start flashing.
- Press the "add" button in the app (remove the tone/volume menu first if it is already there)
- The menu will appear.
- Select another tone and ring the doorbell to test
The Video doorbell does not want to reset.
See if it resets if you connect it to a USB charger. If it does, then you will need to replace the power supply. The current power supply is not able to get enough power to the video doorbell.
The Video doorbell is making sounds when nobody is ringing the bell.
Your power supply can't provide enough power to the WIFICDP10GY. Please upgrade your power supply to compensate for the loss of the cables. We recommend a 12VAC or higher power supply.
An automation can be used to make a certain "event"(condition), trigger another action (Task)
A condition can be anything from motion detection, to a certain time, a certain temperature, sunrise.
Then you can make this condition turn on lights, turn on smart plugs, make a siren sound or a combination of multiple tasks.
Can I stream the livefeed of the camera to a pc?
No, unfortunately this is not possible at the moment.

When I enter the IP address of this camera I see a login screen. How do I log in?
Unfortunately it's currently not possible to access it this way.
We are looking to add this functionality in the future.
Can I add multiple WIFICDPC10BK gongs?
Yes you can, simply install them like you would install a single one.
The difference is that you need to make all the gongs blink at the same time before you press add in the app.
Can i change the volume of the doorbell?
No, you can't change the volume of the doorbell.
Can I give other people access to my Smartlife devices too?
Yes you can.
Each person needs a unique account on their mobile device.
To add them as "family members" follow these steps:
In the main screen of the app tap on the name of your home (top left)
Tap on Home management
Tap on the name of your home again.
Tap on "add family members" and fill in the account details of the person you want to add.
It will give them access to all the devices in your home as a normal meber or admin (you can select this)

If you only want to share a single device in a home, go to the settings menu of the device and select "share device" -> add member.
I do not get a "call-screen" when someone rings the bell
If your phone is locked, you will only get a notification.
You can tap on this notification to go directly to the live view of the doorbell.
If the app is opened, you will get a screen as if someone is calling you.
Where is the USB port located?
The port is located on the bottom of the doorbell.
Use this port with a micro USB charger to install it indoors.
After it's installed you can mount it on the door again.

The SD-card is not working at the camera.
Use a Class 10 SD card up to 128GB.
Avoid so called "Ultra" or "Extreme"cards.
These fast cards often have compatibility issues.
Maximum number of members that can be added to a family.
You can add maximum 20 members.
How many camera's can I use with the VAS Cloud service?
This optional Cloud service can be added per camera.
Each individual camera will need it's own subscription.
How do I save a recording?
Go to the live view of the camera
Tap on playback
Scroll through the timeline until you found the clip you want to save.
It will start playing
Press record
When you have reached the end of what you want to record, press record again and it will be saved to your mobile device.
I get an error that my password or SSID is too long.
You can bypass this error message.

- Click on OK and go on with the installation and follow the instructions.

Because your password or SSID is more than 20 characters, the QR-code that is generated by the app get smaller and it is more difficult for the camera too scan the QR-code.
The chance of errors while scanning are higher.

If the QR-code can't be scanned, you can use the SmartConfig mode.

tap "+" -> camera -> other (top right) -> SmartConfig and follow the steps in the app.
The length of your password/SSID does not matter when using this method.

Does the camera support cloud storage?
Yes, Open te live stream of the camera.
Tap on Purchase VAS.
Here you can subcribe to the cloud storage service.
There is a 30 day free trail you can try.
My Smartlife products lose the Wifi connection every time.
This is probably a Wifi problem, this can be for various reasons.
1.) Wifi signal is unstable.
2.) Wifi signal is too weak.
3.) Using an access point with the same SSID and password that do not support the IEEE 802.11R standards.

Problem 1 can often be solved by restarting the router.
Problem 2 can be checked with an app Wifi analyzer with this the signal can be viewed and corrected to a better position.
Problem 3 can be checked as the access points are turned off, the Wifi signal is still good and the connection remains if the access points are a problem, a Mesh solution can then be used.
Please make sure that they support IEEE 802.11R standard.
Where these Frequently asked questions helpful?
/
Prodotti che vi potrebbero interessare...
Accessori per questo prodotto